Video tutorial for the Capture the Fracture® Best Practice Framework Online Questionnaire now available in Spanish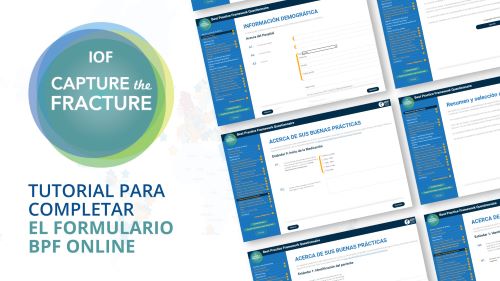 Lee esta nota en español
The Capture The Fracture® (CTF) Best Practice Framework (BPF) is an internationally approved, peer-reviewed guide for achieving excellence in the secondary prevention of osteoporotic fractures.  It establishes global best practices for the implementation of post-fracture care programs (PFC), commonly known as Fracture Liaison Services (FLS).
The BPF promotes excellence in secondary fracture prevention and recognizes FLSs who complete the BPF Questionnaire and adhere to the BPF standards in the care of patients with fragility fractures. The Framework structure is made up of a series of 13 standards that address elements that are essential to the success of FLSs and their long-term sustainability, as well as aspirational goals. The BPF Questionnaire can be completed online, which streamlines the process for FLSs to join the CTF Network, receive peer evaluation from the CTF Steering Committee, and receive global recognition on the global best practice map. 
The IOF LATAM Office has developed a video tutorial to complete the online BPF Questionnaire and successfully submit your application. The video includes a step-by-step explanation of the sections that make up the form, namely: user creation and profile, contact information for your institution, general information about your FLS and the types of fractures that are entered, and the 13 standards of the Best Practice Framework. Dr. Adriana Medina, CTF Mentor in Colombia and current FLS coordinator of the San José Hospital in Bogotá, guides you in this video: "I hope that this tutorial will be useful to complete your application and register your FLS on the Map of Best Practice of the IOF Capture the Fracture® program."
The tutorial is available on the official IOF YouTube account.  In the description below the video, you can view the video one chapter at a time and thus complete the BPF Questionnaire at your own pace.
The online BPF form is available in 11 languages, including Spanish and Portuguese. To learn more about the IOF Capture the Fracture® program visit www.capturethefracture.org
Twitter in Spanish: @iofsaludosea