The Best Practice Framework (BPF) serves as the measurement tool for IOF to award 'Capture the Fracture Best Practice Recognition' in celebration of successful FLS worldwide. Applicants will feature on the CTF's interactive map and will be awarded the Capture the Fracture Best Practice Recognition logo.
The BPF has been developed by a steering committee chaired by Professor Serge Ferrari (Switzerland) and Professor Kassim Javaid (UK), and shaped by input from global leaders of established Fracture Liaison Services.
The objectives of the BPF are to:
Empower Change for clinical champions and health care administrators to rationally evaluate provision of secondary fracture prevention in their health care system in the context of globally-endorsed standards
Provide Recognition to leaders of established FLS for their dedication to excellence.
Guidance for those health care systems that are yet to establish an FLS
Download the Best Practice Framework and learn about the 13 globally-endorsed standards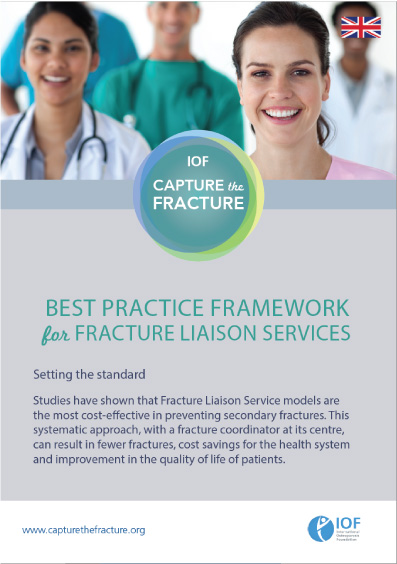 The BPF provides a means for excellence in secondary fracture prevention to be recognised globally. Applicants achieving Best Practice Recognition will be recognised by IOF in the following ways:

The applicant's PFC program will feature on the Capture the Fracture website's interactive map and will be awarded the Capture the Fracture Best Practice Recognition logo.

The applicant will be awarded use of the IOF approved, Capture the Fracture Best Practice Recognition logo for use on the applicant's websites and materials

Application for Best Practice Recognition provides applicants with an opportunity for their PFC program to be peer-reviewed and so identify any potential opportunities to further improve delivery of care and outcomes for patients.
The Best Practice Framework provides a unique platform to share the best practices developed within your PFC program with colleagues throughout the world, and so make a significant contribution to improving the care of fragility fracture sufferers worldwide.
Complete the BPF questionnaire in one of the available languages. The CTF Governance will review your application and come back to you with a final summary based on five criteria - hip fracture patients, other in-patient fractures, outpatient fractures, vertebral fractures and organisational characteristics.
1. Complete the BPF Questionnaire
2. Evaluation by the Capture the Fracture® (CTF) Governance
3. Receive rating on Map of Best Practice and certificate of achievement
The CTF Governance will grade the service from both administrative and clinical perspectives which is determined based on five quality domains – hip, vertebral, inpatient, outpatient and organisational characteristics.