Zorginstituut Nederland supports a coordinated approach to post-fracture care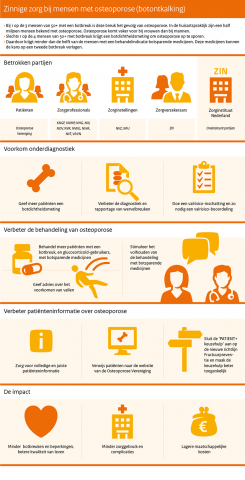 The Dutch Healthcare Institute (Zorginstituut Nederland, ZIN) is an important public organisation that assesses whether diagnostics and (therapeutic) interventions are being deployed cost-effectively and with an emphasis on patient care.
Its motto, "Taking care of good health care: no more and no less than necessary" is reflected in the multiple projects the Institute conducts, including the Zinnige Zorg (Sensible Care) program dedicated to tackling ineffective care and avoiding unnecessary costs by developing frameworks for healthcare professionals.
In August 2020, ZIN published its new report "Zinnige Zorg - Verbetersignalement Osteoporose" ('Sensible Care – Room for Improvement Report Osteoporosis'). This landmark report has been supported and endorsed by various parties, including the International Osteoporosis Foundation (IOF) and has been developed with input from notable key opinion leaders, including Prof. Willem Lems (member of the CTF Steering Committee), Prof. Joop van der Bergh and Harry van den Broek.
The report puts a spotlight on the need for post-fracture care coordination programs such as Fracture Liaison Services and highlights the significance of these systems in facilitating bone mineral density testing and patient care following a fragility fracture.
The following ten key action points to help healthcare professionals improve their osteoporosis care services are emphasized in the report:
Make the fracture prevention care process explicit and bring it to the attention of hospitals, care professionals and health insurers
Adjusting guidelines and linking them to each other
Increase accessibility to Bone Mineral Density tests for patients over the age of 50
Improve diagnosis and reporting of vertebral fractures
Provide falls assessment and interventions services
Treat more osteoporosis patients with bone-sparing medication, and provide lifestyle and fall prevention advice
Treat more glucocorticoid users with bone-sparing medication
Encourage patients to maintain treatment with bone-sparing medication
Do not stop using denosumab without post treatment
Improve patient information and availability of decision aids
The execution and implementation of the improvements outlined are up to the parties involved in care, in line with the respective responsibilities in the health care system. The Zorginstituut will monitor and report on the implementation process in the form of progress reports.
Importantly, the agreements will not only lead to better care for people with osteoporosis, but also contribute to the prevention of recurrent bone fractures. This will serve to prevent many hospital and nursing home admissions, as well as pain and limitations in daily life, and will improve the quality of life for people with osteoporosis.
IOF CEO Dr Philippe Halbout commented : "IOF and the Capture the Fracture® Partnership initiative are honoured to endorse this very significant report and we congratulate all the dedicated experts who are involved in its development and ongoing implementation. We firmly believe that the key actions outlined in the report will translate into long-term benefits for the healthcare system and osteoporosis patient care in the Netherlands."