A Warm Welcome to FLS Added to the Map of Best Practice – May 2022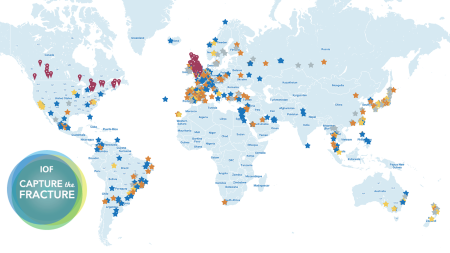 This month, Fracture Liaison Services (FLS) from Brazil, Saudi Arabia, Spain, Malaysia, Japan, and Lebanon have joined the Capture the Fracture® Map of Best Practice, bringing the total to 736 FLS in 50 countries.
Post-Fracture Care Coordination Programs (PFC)/FLS across the world are receiving recognition through the Capture the Fracture® (CTF) program and having their achievement assessed against the CTF Best Practice Framework.
IS YOUR FRACTURE LIAISON SERVICE MAPPED?
FLS which apply for 'Best Practice Recognition' are assessed by CTF experts after completing the BPF Questionnaire, which reflects the thirteen BPF Standards. These FLS receive a corresponding Certificate of Achievement and their service receives recognition on the global 'Map of Best Practice'. Click here to learn more.
A WARM WELCOME TO OUR NEW FLS THIS MONTH
We are pleased to welcome the seven new FLS which have joined the CTF Network this month:
Hospital Universitário Antônio Pedro (HUAP), Niterói, Brazil
King Salman Hospital, Riyadh, Saudi Arabia
Hospital de Alta Resolución de Puente Genil, Puente Genil, Spain
Hospital Universiti Sains Malaysia, Kubang Kerian, Malaysia
American University of Beirut Medical Center, Hamra, Lebanon
Hospital Universitario de Navarra, Pamplona, Spain
Moriya Daiichi General Hospital, Moriya, Japan
We congratulate all FLS joining the Capture the Fracture® Map of Best Practice for continuing to improve post-fracture patient care and reduce spiralling fracture-related healthcare costs worldwide.