A Warm Welcome to FLS Added to the Map of Best Practice – March 2022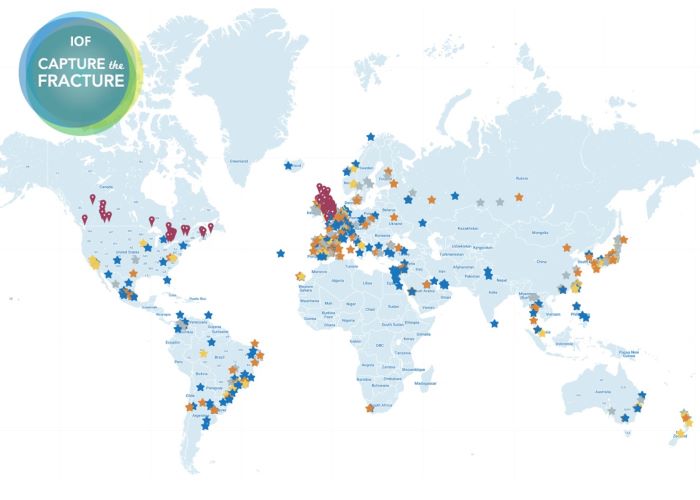 This month, Fracture Liaison Services (FLS) from Malaysia, Saudi Arabia, New Zealand, Israel, Netherlands, Switzerland, Turkey, and Mexico have joined the Capture the Fracture® Map of Best Practice, bringing the total to 718 FLS in 50 countries.
Post-Fracture Care Coordination Programs (PFC)/FLS across the world are receiving recognition through the Capture the Fracture® (CTF) program and having their achievement assessed against the CTF Best Practice Framework.
A WARM WELCOME TO OUR NEW FLS THIS MONTH
We are pleased to welcome the eight new FLS which have joined the CTF Network this month:
Taiping General Hospital, Taiping, Malaysia
Whakatane Hospital, Whakatane, New Zealand
Herzfeld Rehabilitation Geriatric Medical Center, Gedera, Israel
ADRZ, Goes, Netherlands
Centre Hospitalier du Valais Romand, Martigny, Switzerland
İstanbul Üniversitesi İstanbul Tıp Fakültesi Fiziksel Tıp ve Rehabilitasyon Ana Bilim Dalı, Istanbul, Turkey
Hospital General Querétaro ISSSTE, Querétaro, Mexico 
Erfan and Bagedo General Hospital, Jeddah, Saudi Arabia
We congratulate all FLS joining the Capture the Fracture® Map of Best Practice for continuing to improve post-fracture patient care and reduce spiralling fracture-related healthcare costs worldwide.
 
IS YOUR FRACTURE LIAISON SERVICE MAPPED?
FLS which apply for 'Best Practice Recognition' are assessed by CTF experts after completing the BPF Questionnaire, which reflects the thirteen BPF Standards. These FLS receive a corresponding Certificate of Achievement and their service receives recognition on the global 'Map of Best Practice'. Click here to learn more.