A Warm Welcome to FLS Added to the Map of Best Practice –April 2022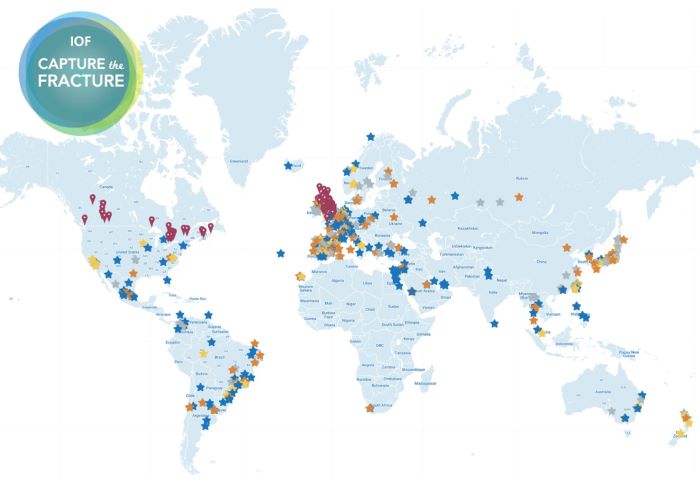 This month, Fracture Liaison Services (FLS) from Argentina, Canada, France, Japan, Mexico, Russia, and Turkey have joined the Capture the Fracture® Map of Best Practice, bringing the total to 728 FLS in 50 countries
Post-Fracture Care Coordination Programs (PFC)/FLS across the world are receiving recognition through the Capture the Fracture® (CTF) program and having their achievement assessed against the CTF Best Practice Framework.
IS YOUR FRACTURE LIAISON SERVICE MAPPED?
FLS which apply for 'Best Practice Recognition' are assessed by CTF experts after completing the BPF Questionnaire, which reflects the thirteen BPF Standards. These FLS receive a corresponding Certificate of Achievement and their service receives recognition on the global 'Map of Best Practice'. Click here to learn more.
A WARM WELCOME TO OUR NEW FLS THIS MONTH
We are pleased to welcome the ten new FLS which have joined the CTF Network this month
Hospital de Clínicas José de San Martin, Buenos Aires, Argentina
St Catharines Site (Niagara Health System), St. Catherines, Canada
Queen Elizabeth Hospital, Charlottetown, Canada
CHU Lyon Edouard Herriot, Lyon, France
医療法人吉野会 はやと整形外科本院・分院 (Medical corporation Yoshinokai Hayato Orthopedic Surgery Main Hospital / Branch), Kagoshima, Japan
Hospital Regional Valentín Gómez Farías ISSSTE, Zapopan Jalisco, Mexico
GAUZSO "GB g. Pervouralsk", Pervouralsk, Russia
ОГКУЗ "Госпиталь для ветеранов войн" г. Белгород (Belgorod Veteran's Hospital), Belgorod, Russia
Özel Koru Ankara Hastanesi, Ankara, Turkey
Hacettepe University Hospital, Ankara, Turkey
We congratulate all FLS joining the Capture the Fracture® Map of Best Practice for continuing to improve post-fracture patient care and reduce spiralling fracture-related healthcare costs worldwide.