Launch of the new Capture the Fracture website announced!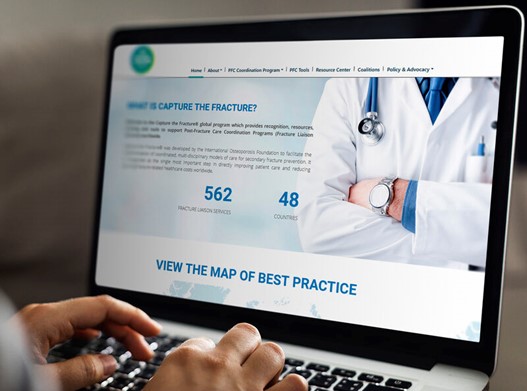 IOF officially announced the launch of the new Capture the Fracture® website In a global press release and extensive social media messaging issued yesterday.
On this occasion, International Osteoporosis Foundation (IOF) President, Professor Cyrus Cooper stated:
"We're incredibly excited to present a vibrant new platform to host IOF's landmark Capture the Fracture® Program,"
"This is an important milestone for the Capture the Fracture® (CTF) program, a global initiative developed by IOF to promote and facilitate the implementation of coordinated, multi-disciplinary models of care for secondary fracture prevention. IOF believes that Post-Fracture Care Coordination Programs, often termed 'Fracture Liaison Services', are the single most important way to directly improve patient care and reduce spiralling fracture-related healthcare costs worldwide."
The website, now compatible with the latest digital devices, includes many new features, including the following key elements:
Resources and tools to support new and existing Post-Fracture Care Programs
Resources to support policy change and drive Post-Fracture Care implementation
Application for recognition and assessment of existing Post-Fracture Care Coordination Programs / Fracture Liaison Services (FLS) – with plans to soon to facilitate online application in multiple languages.
Dr Philippe Halbout, IOF Chief Executive Officer, stated:
"With the growing global interest in Post-Fracture Care program development, the launch of the new Capture the Fracture® platform is both timely and essential, providing a central hub for recognition, mentorship and support to services worldwide."
"We invite you to explore the website and make use of its many resources."