Getting to gold: The mexican experience is presented at the WCO-IOF-ESCEO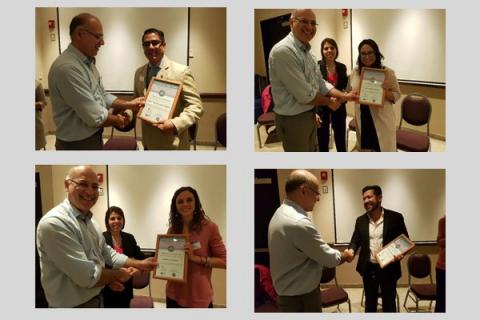 The framework and milestones of Capture The Fracture's Getting To Gold programme were presented during a Non-Sponsored Symposium at the virtual edition of the WCO-IOF-ESCEO 2020 world congress.
Dr. Kassim Javaid, Co-chair of the Capture the Fracture Steering Committee, reviewed the key elements including learning objectives, the results from the mentorship programme and the next steps for the getting to gold programme. In addition, the symposium features Ms. Monica Caló, regional manager of IOF Latin America, and Dr. Andrea Olascoaga, mentor in Mexico, who provides an evaluation of the Getting to Gold Mentorship programme.
Mexico was the first country to implement the Getting to Gold Mentorship programme and is now the first country to share its experiences about the benefits of the programme.
Monica Caló, programme leader in Latin America, stated: "Through this programme, we are starting to build a "community of practice" with knowledge, skills, competence and performance to support the initiation and development of FLS that are efficient, sustainable and with a good patient experience".
The programme will also be presented from the perspective of the mentor. Dr. Andrea Olascoaga will review the strengths, weaknesses, threats and opportunities as well as the expected outcomes after the first phase of the programme.
The symposium is available on the virtual platform starting from August 20th. As with the other presentations in the programme, those registered will be able to access the symposium up to three months after the congress.