Capture the Fracture® celebrates its FLS network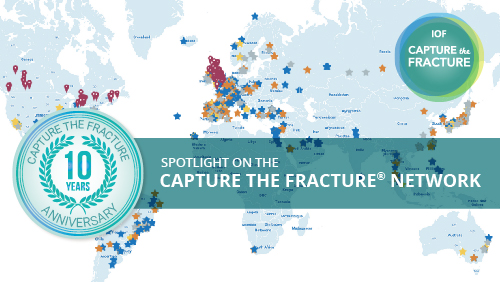 New social media campaign to feature portraits of FLS teams worldwide.
This year, to celebrate Capture the Fracture's (CTF) 10th anniversary, we look forward to highlighting the extraordinary work of Fracture Liaison Services (FLS) which are part of the CTF network in all regions of the world. 
A social media campaign, kicking off on September 1st, will feature portraits submitted by 33 of the more than 765 FLSs in the CTF network. 
The campaign will reflect the tremendous team spirit that is behind the successful operation of all FLS services. Working together, these multidisciplinary teams provide vital post-fracture care for thousands upon thousands of patients in all regions of the world. Their efforts improve patient outcomes and save healthcare costs by preventing recurring fractures in the most high-risk patients.
Dr Philippe Halbout, CEO of the International Osteoporosis Foundation (IOF) stated:
"We extend our great thanks to the FLS teams from 20 countries which have submitted their photos for this special celebratory campaign. Above all, we hope the campaign, although spotlighting only a small portion of the vast CTF Network, succeeds in demonstrating the incredible work of all FLSs which work tirelessly to improve post-fracture care for patients worldwide. Congratulations to all!"

The social media campaign, to be featured on IOF Facebook and Twitter, will spotlight the following FLSs over the course of 2022 (not listed in any specific order):
Hacettepe University Hospital, Ankara, Turkey
Santa Case de Misericordia de Barretos, Barretos, Brazil
Siriraj Hospital, Bangkok, Thailand
Tanta University, Tanta, Egypt
Chi-Mei Hospital, Liuying district, Taiwan
Kang-Ning General Hospital, Taipei City, Taiwan
Hospital de Manises, Valencia, Spain
Assiut University Hospital, Asyut, Egypt
Hadassah Medical Center, Jerusalem, Israel
Sanatorio Las Lomas, Buenos Aires, Argentina
South Texas Spinal Clinic, San Antonio, USA
University Malaya Medical Centre, Kuala Lumpur, Malaysia
Tseung Kwan O Hospital, Kowloon, Hong Kong CN
Donatello Bone Clinic, Florence, Italy
St. Michael's Hospital, Toronto, Canada
Aneurin Bevan University Health Board, Abergavenny, UK
Hospital de Sant Pau, Barcelona, Spain
Norrtälje Hospital, Norrtälje, Sweden
Hospital Regional Universitario Málaga, Málaga, Spain
Emerge Orthopedics, Durham, USA
Trang Hospital, Trang, Thailand
Santa Maria Hospital, Lisbon, Portugal
COT- Centro De Ortopedia Y Traumatologia Rosario, Rosario, Argentina
National Yang Ming Chiao Tung University Hospital, Yilan City, Taiwan
Toyama City Hospital, Toyama, Japan
Spitalzentrum Oberwallis, Brig, Switzerland
Kyojunokai Tokorozawa Meisei Hospital, Tokorozawa, Japan
Yeovil District Hospital, Yeovil, United Kingdom
Regional Emergence hospital n.a. N.V. Solovyev, Yaroslavl, Russia
Hospital Clínico San Carlos, Madrid, Spain
COD Clínica de Osteoporose e Densitometria Óssea, Rio de Janeiro, Brazil
Central City Hospital No.7, Yekaterinburg, Russia
Clínica León XIII, Medellín, Colombia
Japan Community Health Care Organization (JCHO) Tamatsukuri Hospital, Matue, Japan

Does your hospital or clinic have an FLS service which is not yet recognized on the Capture the Fracture® Map of Best Practice? If so, please learn here how you can apply for free assessment and recognition from Capture the Fracture®
###