What is a Post Fracture Care Coordination Program (PFC) ?
Post-Fracture Care (PFC) Coordination Programs, such as Fracture Liaison Services (FLS), are coordinator-based, secondary fracture prevention services implemented by health care systems for the treatment of osteoporotic patients.
PFC Coordination Programs are designed to: Close the care gap for fracture patients 80% of whom are currently never offered screening and/or treatment for osteoporosis Enhance communication between health care providers by providing a care pathway for the treatment of fragility fracture patients
PFC Coordination Program Structure
PFC Coordination Programs, most commonly known as FLS, are made up of a committed team of stakeholders, employing a dedicated coordinator to act as the link between the patient and the orthopaedic team, the osteoporosis and falls prevention services, and the primary care physician.
An FLS ensures that all patients presenting with fragility fractures to the locality or institution receive fracture risk assessment and treatment where appropriate. The service is comprised of a dedicated case worker, often a clinical nurse specialist, who works to pre-agreed protocols to case-find and assess fracture patients. The FLS can be based in secondary or primary care health care settings and requires support from a medically qualified practitioner, whether it be a hospital doctor with expertise in fragility fracture prevention or a primary care physician with a specialist interest.
The service structure for a UK hospital-based Fracture Liaison Service is illustrated below.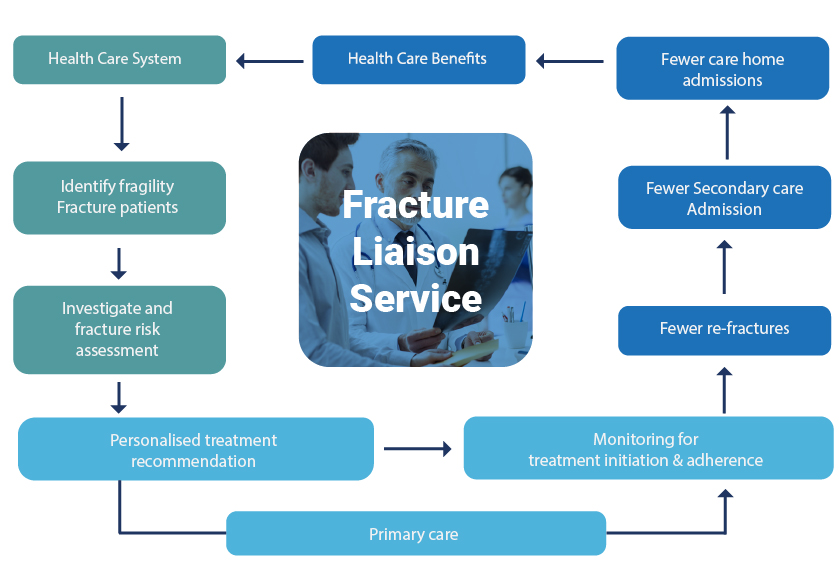 In the prevailing global economic climate, robust demonstration of cost-effectiveness is a prerequisite if new models of care are to be broadly implemented. In a growing number of countries throughout the world, PFC Coordination Programs have been shown to be highly cost-effective for healthcare systems by improving patient care, reducing secondary fracture rates, and ultimately, decreasing the healthcare and societal burden.
Patients who have suffered a fragility fracture have double the risk of suffering another fracture. By intervening with appropriate diagnosis, treatment and care after the first fracture, we can significantly reduce the number of patients suffering and associated healthcare costs.

The Glasgow FLS analysed the cost effectiveness of its FLS over the last 8 years during which they have been providing secondary fracture care in Glasgow, Scotland. From the results, it is estimated that implementing an FLS for the entire UK, it will cost just 0.6% of the current annual hip fracture costs. In summary:
FLS cohort of 686 patients, compared with 'usual care' cohort of 193 patients:
18 fewer fractures
3 life years gained
22 QALYs gained
266 hospital bed-days saved
cost saving of 312 000 GBP (US $497 498) from fractures avoided
|   | FLS cohort | Usual care cohort |
| --- | --- | --- |
| Cost of assessments | 98'000 GBP (US $ 156'208) | 14'000 GBP (US $ 22'316) |
| Cost of drugs | 292'000 GBP | 85'000 GBP (US $ 135'535) |
| Overall savings | 21'000 GBP / 1'000 patients (US $33'482) |   |
Read more about the cost-savings at the Glasgow FLS.
Modelling of the costs of second fractures and the impact of effective FLS are available at national, regional and local levels below.