Position paper published by the Capture the Fracture® IOF Mexico Mentorship Group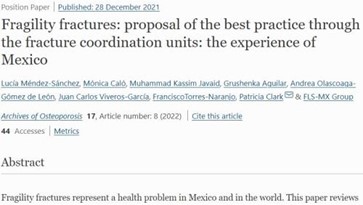 A position paper, titled "Fragility fractures: proposal of the best practice through the fracture coordination units: the experience of Mexico", was recently published by the Capture the Fracture® IOF Mexico mentoring group. To contextualize the Capture the Fracture® program, the paper starts with a brief description of the Mexican health system and some of the barriers that the authors identify for the diagnosis, treatment, and follow-up of fragility fractures in Mexico. It provides an overview of what an FLS is and how to adapt such a model of care to the different health institutions in Mexico.
The paper was published in Archives of Osteoporosis on December 28, 2021 and can be found here. 
Fragility fractures represent a major health problem in Mexico and worldwide. In Mexico, recent reports state rates of almost 2,000 cases per 100,000 population, with a projected seven-fold increase by 2050 (1).
The Mexican health system needs to plan a priority care program for the detection of bone fragility, for post-fracture care and for appropriate and optimized follow-up of cases to prevent subsequent fractures.
The objective of the review is to propose the implementation of the International Osteoporosis Foundation's (IOF) Capture the Fracture® program in Mexico, including the implementation of Post-Fracture Care Coordination Programs such as Fracture Liaison Services (FLS), as a feasible and cost-effective alternative in Mexican health institutions for the identification, treatment, and follow-up of fragility fractures. FLSs, successfully implemented worldwide for the care of patients with fragility fractures, offer diverse and feasible models that can be adapted to the specifics of health systems in the different countries where they are implemented.

Authors: Lucía Méndez-Sánchez, Mónica Caló, Muhammad Kassim Javaid, Grushenka Aguilar, Andrea Olascoaga-Gómez de León, Juan Carlos Viveros-García, Francisco Torres-Naranjo, Patricia Clark & Grupo FLS-México.
1. Clark P, Lavielle P, Franco-Marina F, Ramirez E, Salmeron J, Kanis JA, et al. Incidence rates and life-time risk of hip fractures in Mexicans over 50 years of age: a population-based study. Osteoporosis international : a journal established as result of cooperation between the European Foundation for Osteoporosis and the National Osteoporosis Foundation of the USA. 2005;16(12):2025-30. Epub 2005/09/01