Mentoring healthcare professionals on how to start a Fracture Liaison Service in Russia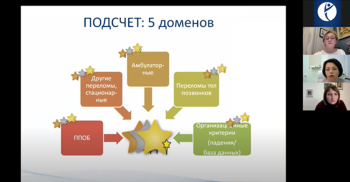 A webinar hosted by Capture the Fracture® (CTF) Russian mentors attracted 45 healthcare professionals with an interest in how to implement a successful FLS.
On February 1, 2022, the Capture the Fracture (CTF) Russian mentors from the Getting to Gold programme and members of the Russian Association on Osteoporosis (RAOP) organized a webinar entitled "Fracture Liaison Services – where to start?".
The speakers included Professor Olga Lesnyak, President of the RAOP, Dr. Ksenia Belova, Head of the Regional Medical and Diagnostic Center On Osteoporosis and Osteoarthritis, and MD Elena Gladkova (Clinical Hospital No. 25, St. Petersburg). The webinar covered the following topics:
What is a FLS? 
Preparatory stage: staffing, regulation of the FLS activity, selection of the FLS model for a medical organization, formation of a team and a target group of patients. 
How to ensure the continuous operation of the FLS, KPIs, the Prometheus register.
How to get on the Global Map of Best Practice.
Click here to watch part 1 
Click here to watch part 2 
Professor Lesnyak stated:
"The implementation of effective post-fracture care coordination programmes worldwide is a key focus for our mentors. It was therefore heartening to see a large number of participants during the webinar. This webinar was a crucial step in raising awareness on the need for FLS in Russia and we look forward to providing further mentoring support for healthcare professionals on best practice in post-fracture care implementation".
Commitment to the development of secondary fracture prevention services in Russia has been an ongoing process which began in 2012 under the auspices of the RAOP with the launch of the "Prometheus" project ("Creating services for the prevention of secondary fractures in patients with osteoporosis"). 
Within the CTF Getting to Gold programme are seven certified mentors from Russia. Their objective is to support the implementation of Post-Fracture Care Coordination Programs such as Fracture Liaison Services (FLS), as a feasible and cost-effective alternative in Russian health institutions. These mentors provide guidance and support to anyone interested in setting up their own FLS or improving the quality of their service. 
Do you want your FLS to also be part of the CTF network in Russia? Complete the Best Practice Framework Questionnaire, which is available in Russian, to join the program. You will receive an evaluation by experts and get recognition for the performance and achievements of your service. FLSs are evaluated according to the 13 standards of the CTF Best Practice Framework.