Celebrating its 10th year, the Capture the Fracture network welcomes its 700th FLS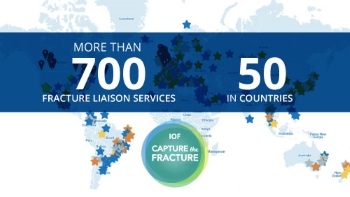 The International Osteoporosis Foundation's (IOF) Capture the Fracture® program, which this year proudly marks a decade of operation, has welcomed the 700th post-fracture care coordination program (commonly termed Fracture Liaison Services or 'FLS') to its network. As well as providing assessment and guidance through its Best Practice Framework standards, Capture the Fracture® offers visibility and recognition for FLS in 50 countries worldwide on its Global Map of Best Practice.
IOF President, Professor Cyrus Cooper, stated: 
"The IOF Capture the Fracture® program, a global platform for FLS recognition, sustainability, and development, is immensely pleased to welcome the 700th post-fracture care coordination program to its network. Altogether, the FLS in the Capture the Fracture® network see approximately 420 000 patients annually, thus making a major contribution to secondary fracture prevention."
"This milestone attests to the continued growth of the Capture the Fracture® program as it moves from strength to strength, with ever greater outreach in all regions of the world."
Broken bones which occur as a result of a minor fall from standing height are known as fragility fractures – and are typically a sign of underlying osteoporosis.  When a hospital or clinic implements a Fracture Liaison Service, it helps ensure that patients who present to the hospital with a fragility fracture are identified, diagnosed, and receive appropriate treatment and care for osteoporosis. This results in fewer re-fractures and lower mortality rates, while reducing costs due to lower hospital admissions, operations, and care home admissions.
Fragility fractures place an enormous burden on healthcare systems and the ageing population across the world. There is an urgent need for more post-fracture care coordination programs such as FLS. These coordinated, multidisciplinary services are the best way to identify and treat fracture patients to help prevent recurring fractures and advance secondary fracture prevention. This is critical because, without osteoporosis management, one fracture too often leads to another. Within the first year of a fragility fracture, the risk of a future fracture doubles. Twenty percent of women who have a vertebral fracture will have another within a year. Almost half of the patients who go on to sustain a hip fracture have previously broken another bone. For many, that life-threatening hip fracture could have been prevented had they had the benefit of early diagnosis and osteoporosis management following the initial fracture. 
Dr Philippe Halbout, IOF CEO, added:
"Fracture Liaison Services make a major contribution to secondary fracture prevention and the quality of life and future mobility of older adults who sustain broken bones due to osteoporosis. We encourage hospitals all over the world to visit the Capture the Fracture® website to learn how they can implement a post-fracture care coordination program or how to improve the quality of their existing service, according to best practice principles." 
Capture the Fracture® offers support and recognition for existing FLS programs and invites applications through the Capture the Fracture®Best Practice Framework online platform, which is now available in nine languages (English, Spanish, French, Russian, Portuguese, Italian, Japanese, Dutch, and Turkish).
###
About Capture the Fracture®
Capture the Fracture® (CTF) is a multi-stakeholder initiative led by the International Osteoporosis Foundation (IOF), to facilitate the implementation of Post-Fracture Care (PFC) Coordination Programs, such as Fracture Liaison Services (FLS), for secondary fracture prevention. The Capture the Fracture® initiative guides healthcare systems in implementing their own FLS and provides a platform for the global exchange of existing projects and resources on FLS and local implementation strategies.
The initiative serves to drive changes at local and regional levels to prioritize secondary fracture prevention. Its aim is to set global best practices for Fracture Liaison Services (FLS) while serving as a benchmark tool to which clinics and hospitals can adhere and aspire to and receive international recognition. The CTF program has a diverse set of tools that provide essential resources and documentation to build the case for prioritization of secondary fracture prevention, establish FLS and drive quality improvement in FLS. CTF also offers mentorship programs that support the development of FLS at the local level. Currently, the CTF network includes 700 FLS in 50 countries worldwide. 
https://www.capturethefracture.org    #CaptureTheFracture