Capture the Fracture welcomes 700th FLS to the Map of Best Practice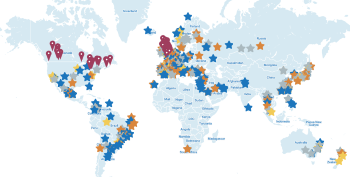 This month, the Capture the Fracture® (CTF) program celebrates a milestone by welcoming the 700th Post-Fracture Care Coordination Program (PFC), also known as Fracture Liaison Service (FLS), to the Map of Best Practice. The CTF program had the pleasure of welcoming 10 new FLS this month from 10 different countries.
IS YOUR FRACTURE LIAISON SERVICE (FLS) MAPPED?
FLS which apply for 'Best Practice Recognition' are assessed by CTF experts after completing the BPF Questionnaire, which reflects the thirteen BPF Standards. These FLS receive a corresponding Certificate of Achievement and their service receives recognition on the global 'Map of Best Practice'. Click here to learn more.
A WARM WELCOME TO OUR NEW FLS THIS MONTH
This month, CTF welcomed ten new FLS to the CTF Network:
Elhadara University Hospital, Alexandria, Egypt
Chaiyaphum hospital, Muang Chaiyaphum, Thailand
Kwong Wah Hospital, Kowloon, Hong Kong
Gunma Prefectural Cardiovascular Center, Maebashi, Japan
Kaohsiung Veterans General Hospital, Kaohsiung, Taiwan
Faculty Hospital Kralovske Vinohrady, Prague, Czech Republic
Ziekenhuis Tjongerschans, Heerenveen, Netherlands
Ege University, Bornova, Turkey
Instituto Valler Petrolina, Petrolina, Brazil
Hospital General de Querétaro, Querétaro, Mexico
We congratulate all FLS joining the Capture the Fracture® Map of Best Practice for continuing to improve post-fracture patient care and reduce spiraling fracture-related healthcare costs worldwide.