National Taiwan University Hospital
The Fracture Liaison Services (FLS) at the National Taiwan University Hospital Main Hospital (MH) and Beihu Branch (BB) in Taiwan has been specifically designed to follow the 13 Capture the Fracture best practice standards. Two dedicated coordinators proactively identify, evaluate, and follow cases. Features include:
- Shared assessment protocol between two hospitals with single database
- Supported by administrations from both hospitals with collaborations from orthopedics, internal medicine, geriatrics, and family medicine.
- Superintendent of BB is the lead physician of that service.
- Success of the MH programme is considered a key performance indicator of hospital wide balance score card.
- Satisfactory assessments and medication administration rate:
 Nearly 100% bone mineral density, life style and fracture risk assessments, secondary osteoporosis assessments, fall assessments (high risk group), timely assessment within 8 weeks.
 >90% anti-osteoporosis medication administration (among those reimbursable from National Health Insurance,  roughly 80% of the cases)

There is sufficient funding for two years provided by the hospital administration and a philanthropist donation.  The FLS service has been accredited as Gold (MH) and Silver (BB) level from the Capture the Fracture Best Practice Recognition programme.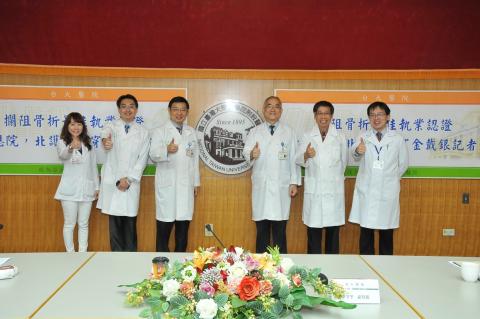 From left: Coordinator: Dicha Wang, Director of Geriatrics and Gerontology: Dr. Ding-Cheng (Derrick) Chan, Vice Superintendent of Main Hospital: Prof. Kuan-Yu Hung, Superintendent of Beihu Branch: Prof. Keh-Sung Tsai, Director of Orthopedics: Prof. Rong-Sen Yang, and Family physician from Beihu: Dr. Jen-Kuei Peng
No. 7 ChungShan S. Rd.
Zhongzheng District, Taipei City 100
Taiwan
Gold