TRAUMATOLOGIA VISTAHERMOSA FRACTURE LIAISON SERVICE
Clinica Vistahermosa is a Spanish private hospital located in Alicante. The hospital serves a population of around 1.000.000 inhabitants between medical insurance companies and private patients.

The Fracture Liaison Service (FLS) has running since January 2014. FLS is driven by orthopaedics. The team is made up of six orthopaedics, one rheumatologist, three nurses, three physiotherapists, and three administrators. It handles osteoporotic/fragility fractures, especially hip and vertebral fractures, according to best clinical guidelines.
Lead Clinician (Orthopaedics): Manuel Morales Santías.
Coordinator (Orthopaedics): Javier Sanz-Reig.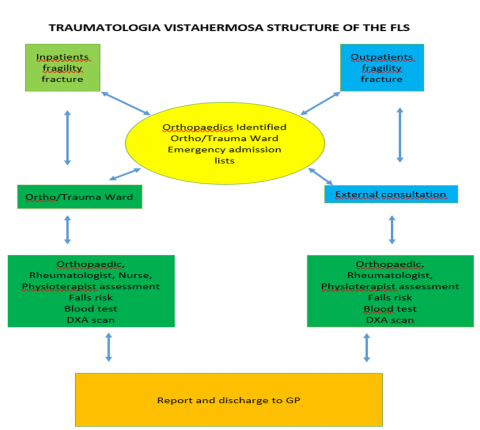 Traumatologia Vistahermosa Orthopedic Service (Spanish-English-Russian version)
Av de Denia, 76
03016 Alicante
Spain
Bronze