In the recent years, a consensus has developed across the world on the pressing need for fragility fracture sufferers to receive the secondary preventive care that they need. We call on health system leaders, including payers , governments, healthcare institutions and the medical community, to invest in Post-Fracture Care (PFC) coordination programs, such as Fracture Liaison Services (FLS), a sustainable, multidisciplinary care model for fragility fractures which spans hospital and community settings.
The Capture the Fracture® initiative serves as a catalyst to establish a broad-based fracture prevention coalition that unites national advocacy groups, Key opinion leaders (KOLs), multispecialty societies, national governments, and NGOs. The formation of national bone health coalitions will drive secondary fracture prevention and play an instrumental role in the development of PFC coordination programs, such as FLS.
Our coalition partners consist of multidisciplinary health care providers and industry organizations working in a field associated with osteoporosis. It is our pleasure to be working with organizations that are determined to reduce the treatment care gap of fragility fractures and we are delighted to have their support as we continue to have these organizations associated with CTF.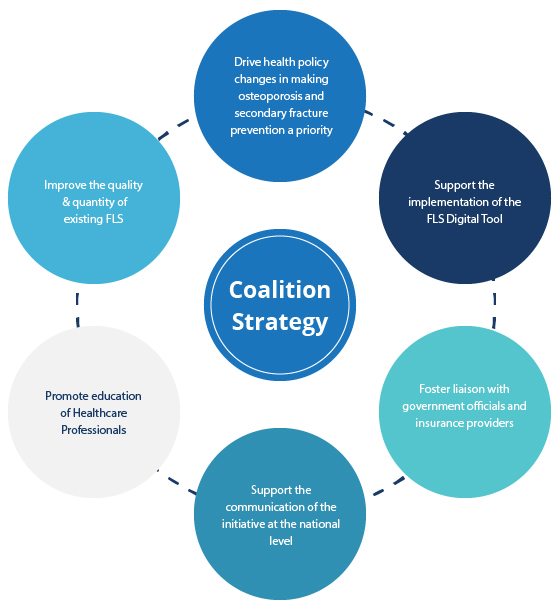 Tackling the Challenges Head On
Limitations in the care of osteoporosis and the prevention of fragility fractures are profound. Prevention of secondary fractures cannot be achieved without active coalition efforts , active engagement and support from a diverse representation of osteoporosis experts. Strong coalitions will be a catalyst for achieving the long-term challenges such as facilitating high quality FLS services, reducing the treatment care gap of fragility fractures and the establishment of osteoporosis as a national priority.
The Role of Coalitions Against Osteoporosis and Fragility Fractures
Actively supporting efforts to improve public awareness of osteoporosis, fragility fractures and falls prevention will ensure the individuals at risk have a clear understanding of their own risk factors and the preventative options available to them.
Coalition groups can promote high-level national strategies and plans for healthcare policy changes and develop a national consensus on preventing subsequent fragility fractures.
Active involvement of key opinion leaders (KOLs) globally and locally, will be instrumental in adopting and encouraging the implementation of national best care clinical guidelines for secondary fracture prevention and management will help educate healthcare professionals on how they can implement effective and sustainable PFC coordination programs, such as Fracture Liaison Services (FLS).
At national level, coalitions will also encourage the development of nationwide fracture identification and secondary prevention registries to enable local-level service benchmarking and improvement. This will ensure PFC coordination programs deliver their expected benefits and decision makers can see the benefits of supporting such programs.
At national level, Coalitions will be composed of a multidisciplinary group of stakeholders, including KOLs, who will develop a targeted local strategy to achieve:
policy changes including insurance policies changes

implementation of new PFC Coordination programs/FLS

quality improvement of existing PFC Coordination programs/FLS

implementation of the Digital Tool in PFC Coordination programs/FLS sites

awareness and visibility increase of the CTF program
Targeted communication at national, regional and international level will help raise awareness of osteoporosis and fragility fractures, illustrating their impact on healthcare settings, while advocating for the benefits of implementing PFC coordination programs/FLS to improve patient care worldwide for osteoporotic patients worldwide.
The Resource Center, a global online hub of resources for healthcare professionals, policy makers and patients, contains a wide range of open access resources and tools related to PFC coordination programs/FLS, to facilitate the sharing of information about PFC coordination programs/FLS and secondary fracture prevention. Available tools include numerous educational tools for FLS to become effective and sustainable.
These various materials are to be widely used and locally adapted by local experts who are actively working on raising secondary fracture prevention awareness while emphasizing the need for PFC coordination programs/FLS implementation to improve patient care.
All achievements shared with IOF will be promoted on the CTF website and within the IOF community. Contact us with your news and updates to be shared on our communication channels.