Dr Manuel Cardenas De La Vega Regional Hospital is the first gold-standard FLS in Mexico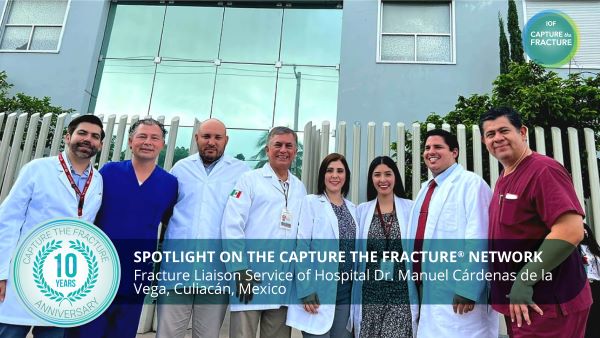 For the members of the FLS of the Hospital Dr. Manuel Cárdenas de la Vega, spearheading secondary fracture prevention in northwest Mexico represents a continuous effort in constant transformation. The FLS has been recognised as the first service in Mexico with Gold Standard status in the Capture the Fracture® programme. The FLS, coordinated by clinician Dr. Lucio Balcázar, is committed to improving the quality of services to better serve the population of Culiacán Rosales, the capital and most populated city of the state of Sinaloa and the municipality of Culiacán. In the last 4 years they have positively impacted the lives of 1340 patients through osteoporosis care and the prevention of new fractures.
In a presentation to the Mexican Association of Bone and Mineral Metabolism (AMMOM), the FLS Rehabilitation Medicine research team stated that previously for every vertebral fracture reported, there were 11 or more unreported. However, they are now being detected and treated thanks to the implementation of vertebral fracture detection using the hospital's diagnostic imaging database. This is a strategy to maintain the effectiveness of the FLS programme. 
The global Capture the Fracture® team congratulates the Hospital Regional Dr. Manuel Cardenas de la Vega and encourages them to remain committed to their work towards secondary fracture prevention.