IOF Symposium at SIBOMM congress highlights Capture the Fracture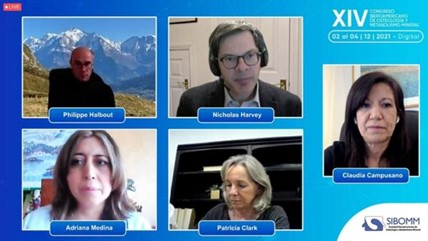 The XIV Congress of the Iberoamerican Society of Osteology and Mineral Metabolism (SIBOMM), held on December 2-4, 2021, included an IOF Symposium on Key Trends and Data on Bone Fragility in Latin America. 
SIBOMM's first virtual congress featured a comprehensive program that addressed the latest advances, as well as controversial topics, in osteology and mineral metabolism. Invited speakers included a large number of experts from Latin America and the Iberian Peninsula. 
IOF joined SIBOMM, a member society of the IOF CNS, in holding the symposium 'Trends and key data on bone fragility in Latin America' at the Congress. The meeting was moderated by Dr Claudia Campusano (Chile) and Professor Nicholas Harvey (UK). To start the symposium, Dr Philippe Halbout, IOF CEO, reviewed the main operations of the IOF both globally and regionally and discussed the Capture The Fracture® initiative. His presentation was followed by presentations given by Dr Patricia Clark (IOF Board Member, Mexico) and Dr Adriana Medina (FLS Mentor, Colombia).
Dr Clark presented the epidemiology and costs of fragility fractures in Latin America 2021 as part of the LATAM Audit 2021 project, while Dr Medina discussed aspects of the Capture The Fracture® program and demonstrated the impact of secondary fracture prevention initiatives at the local level through her national experience.
The Symposium was very well received by the attendees who actively participated with their questions and reflections on the topics presented. IOF thanks SIBOMM for the invitation and for having considered simultaneous translation into Spanish and Portuguese for all attendees during the symposium.  
We also invite all registrants to watch the IOF Symposium on-demand on the congress platform. The content will be active for 3 months post-event so that the scientific program and exhibition can be viewed on demand. Visit  https://div3.eventslab.com.br/ (The IOF symposium will be available in the "Auditorium" section, Day 1: 2/12/21, from 16hs to 17hs).
Adapted from the Spanish
https://www.osteoporosis.foundation/news/simposio-iof-tendencias-y-datos-clave-sobre-la-fragilidad-osea-en-america-latina-20211206-0826