The 1st Swiss FLS Network meeting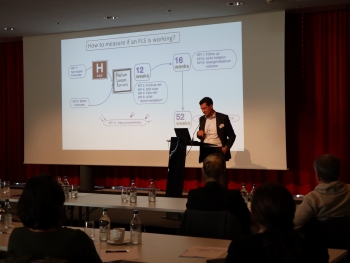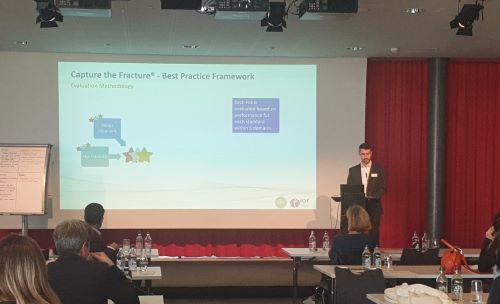 On October 29th the Swiss Association against Osteoporosis (SVGO/ASCO) hosted the first meeting of the Swiss Fracture Liaison Service (FLS) Network. This meeting provided the opportunity for experts involved in FLS and those who are considering establishing an FLS to network and exchange ideas regarding the challenges and opportunities in running FLSs. 
The meeting was characterized by an active participatory approach, including the creation of breakout groups who conducted SWOT analyses on the current care processes in place in their respective hospitals and clinics. Presentations were made by Cylad, a consulting firm that assists Swiss FLS with project management, AMGEN and UCB, partners of the meeting, and IOF, presenting the many tools and resources available for FLS through the Capture the Fracture® program.
A session on performance, evaluation, and improvement of FLS concluded the meeting. This session highlighted the 13 Capture the Fracture® Best Practice Framework Standards and the 11 Key Performance Indicators used to monitor and improve FLS performance at the patient level. Closing remarks from Prof. Serge Ferrari highlighted the important role FLS play in the Swiss health system and focused optimistically on the work that still needs to be done to ensure widespread coverage of effective and sustainable FLS.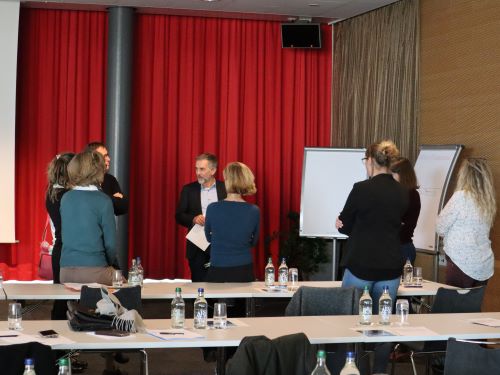 Prof. Serge Ferrari stated:
"The treatment gap remains too high in Switzerland (80%) and FLS is an important response to it. By growing the number of major hospitals and clinics with a performant FLS in Switzerland, we hope to bridge this gap. Our goal is not only to improve the performance of the existing FLS but create a domino effect whereby the leading hospitals will mentor regional hospitals to develop their own FLS, with as a main goal to increase the number of patients identified and treated through FLS from about 4'000 currently to 10'000 within 5 years. However, we recognize that in absence of a national program supported by our health care authorities and insurance companies the effort will have to be sustained at the local level and by hospital administrations, which may balance the benefits of FLS against other priorities, of which COVID might not be the last. Our goal as a network is therefore also to speak as a stronger voice to defend the importance of appropriate treatment for the patients with fragility fractures in Switzerland."
About SVGO/ASCO 
The Swiss Association against Osteoporosis (Association Suisse contre l'Ostéoporose [ASCO], Schweizerische Vereinigung gegen die Osteoprorose [SVGO]) was founded in 1989 with the primary aim to bring together the specialists of various fields, i.e. internal medicine, endocrinology, rheumatology, gynecology, orthopedic surgery, social- and preventive medicine, dealing with the problems of osteoporosis and to integrate the rapidly growing knowledge and progress on osteoporosis in a national consensus. The members of the board represent the various regions of Switzerland and the various medical specialties. https://www.svgo.ch/ 
About Capture the Fracture® 
Capture the Fracture® (CTF) is a multi-stakeholder initiative led by the International Osteoporosis Foundation (IOF). The initiative hopes to drive changes at local and international levels, so that secondary fracture prevention becomes a reality. Its aim is to set global best practices for Fracture Liaison Services (FLS), while serving as a benchmark tool to which clinics and hospitals can adhere and aspire to, and receive international recognition. The CTF program has a diverse set of tools that provides essential resources and documentation to drive quality improvement in FLS; CTF also offers mentorship programs that support development of FLS at the local level. Currently the CTF network includes 683 FLS in 50 countries worldwide. 
https://www.capturethefracture.org    #CaptureTheFracture

About IOF
The International Osteoporosis Foundation (IOF) is the world's largest nongovernmental organization dedicated to the prevention, diagnosis and treatment of osteoporosis and related musculoskeletal diseases. IOF members, including committees of scientific researchers as well as 268 patient, medical and research societies, work together to make fracture prevention and healthy mobility a worldwide health care priority. https://www.osteoporosis.foundation   @iofbonehealth