The Fracture Liaison Services (FLS) at E-Da Hospital in Taiwan is a smart healthcare case management model.
The Fracture Liaison Services (FLS) case management model, based on the concept of  4"I", was created by smart healthcare systems in E-Da Hospital, Taiwan.
1. Identification: All vertebral and hip fractures patients are automatically identified by the artificial intelligence (AI) system. Besides, the patients with osteoporosis or low bone mass who was diagnosed by DXA (dual-energy X-ray absorptiometry) are also detected by the AI system.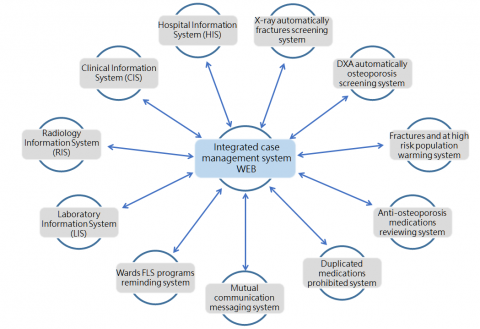 2. Investigation: Comprehensive assessment was performed by the physicians and case managers through smart case management system, which can automatically integrated lots of information such as basic information, laboratory data, X-ray and DXA result, and past medications history.
3. Initiation of appropriate treatment: Smart case management systems show all past anti-osteoporosis medications history. Besides, warming system can remind the physician to provide adequate pharmaceutical and non-pharmaceutical treatment to the patients.
4. Improving adherence: Smart case management systems can remind the physicians and case managers the patients who are lost to follow-up. Also, the systems remind the fragility fractures and at high risk patients about the date and importance of regular treatment.
Yida Road 1
Kaohsiung City, 824
Taiwan
Gold